Minorities in Schools Become the Majority
Now all of us know what minorities are. Though in America especially, there is a huge amount of them and sadly they get a huge amount of racist comments directed towards them. Currently, in America, the population demographic is: 72% are whites, 12.6% are African-Americans, 9.1% are mixed, Asians alone are 4.75%, American Indian and Alaskan Natives are .95%. Native Pacific Islanders alone make up .17%.
However, now in the age group 5 and under, minorities make up almost more than half of the age group's population. Overall in American public schools minorities make up 50.2% of the students while whites make-up 49.8%. However, it is expected that in the next couple of years that ratio will go up. In addition the government predicts that in 2043, White Americans will be an official minority.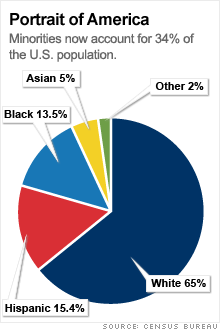 What does this mean? Well many researchers in university are predicting that this may help racial equality. This is because (as I said before) most racist comments and insults come from white Americans towards minorities but now white Americans will take up less and less of the American population.
The main reason on why the minority population is becoming the majority is because of an influx of illegal and legal immigration. Also America is in a baby boom at least for the minorities. Plus most white Americans have some sort of mix of European and Middle Eastern blood. Though for the most part white Americans will still make up the majority of the American population and even in 2043 the only reason why white Americans could be considered a minority is if you add all the different ethnicities together. Otherwise if isolated most of the minorities would still be considered a minority.
Sources:
http://usnews.nbcnews.com/_news/2013/06/13/18934111-census-white-majority-in-us-gone-by-2043?lite
 http://www.cbsnews.com/news/white-students-to-no-longer-be-majority-in-us-public-schools/
http://www.brookings.edu/blogs/up-front/posts/2011/08/26-census-race-frey
http://en.wikipedia.org/wiki/Demographics_of_the_United_States
http://www.huffingtonpost.com/2013/06/13/minorities-in-america-census_n_3432369.html
Tags: America, Minorities, Population, Schools, White Americans