India Beats the Odds as Well as Polio
First off for those of you who don't know Polio is a disease in which a virus attacks your brain and spinal cord cells that control joint and muscle movement. In most cases it causes paralysis (in the leg and foot region). India used to be a place were the most people contracted polio and many prestige doctors and physicians thought India would be the last country in the world to eradicate the disease. They were wrong, India with the help of a company called Rotary International conquered the disease by vaccinating each and every child in India and now the country celebrates one of the health achievements of our time.
India's last recorded polio case was 3 years ago and the victim was a (now) 4-year-old girl named Rukhsar. She contracted the disease when she was 18 months old. The global effort to stop this disease started in 1988 and at this point 200,000 kids in India were being disabled by polio each year. In addition India's condition was so bad that 20 years after the global effort had started India still reported half the worlds polio.
Luckily, in America, polio has long since been eliminated. The height of America's was during 1940's and 1950's when 35,000 people became disabled each year. Parents soon told children not to drink from drinking fountains, swim in public pools, and to stay away from very crowded places. The most famous case is when Franklin D. Roosevelt himself became disabled by the disease. Furthermore polio didn't become eradicated in United States until 1979 and the Salk and Sabine vaccines were the most helpful.
India, a placed ravaged by polio was able to destroy the disease by vaccinating 170 million children each year which needed 2 million health workers. In the end, by creating unique solutions, India was able to beat the disease leaving 3 countries left to eradicate the disease (Pakistan, Afghanistan, and Niger).
This picture shows polio's elimination over the years.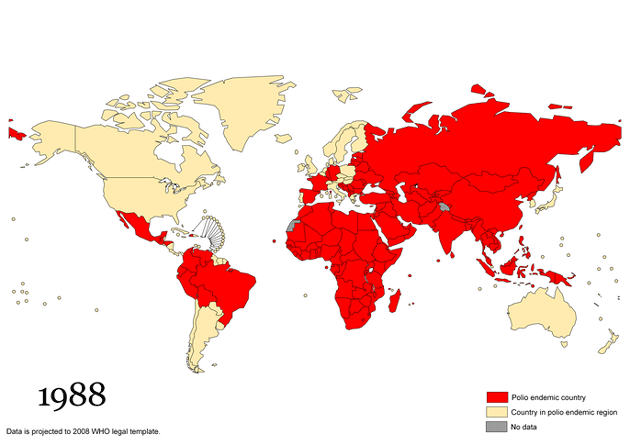 http://www.cnn.com/2014/03/27/health/india-polio-3-years/ 
Sources:
http://www.huffingtonpost.com/2014/01/16/polio-india_n_4603778.html